About Dr. Edwards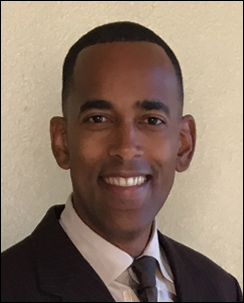 After graduating with honors from Queen's College in Nassau, Bahamas, Dr. John Edwards received an academic scholarship to Morehouse College in Atlanta, Georgia. (The Alma mater of Dr. Martin Luther King jr.)
At Morehouse, Dr. Edwards obtained a double major degree in Biology and Psychology, while running Varsity Track & Field in the SIAC Conference for his College.
After completing his undergraduate studies, Dr. Edwards attended The University of the West Indies Medical School (U.W.I.) at the Trinidad and Tobago campus (Mt. Hope – Eric Williams Complex) on a full academic scholarship.
In medical school, Dr. Edwards earned two doctorates, one in general medicine and the other in general surgery. This was five years of intense studies in the British medical training system. In London, this medical degree is known as an M.B.B.S. and is the US equivalent of an MD. Degree!
In 2002 Dr. Edwards moved to the Bay Area to be with his parents and his sister who had just finished studying at Stanford University. While living in Oakland California he served under the administration of Raymond Langford at The Healthy Oakland Clinic in Oakland, California owned by Dr. Geoffrey Watson of Howard University. Here he began teaching weekly classes on men's and woman's health for four years, specializing in chronic degenerative diseases and alternative medicines.
Dr. Edwards was introduced to the Mangosteen fruit in 2002 and began studying its tremendous history as well as reading up on all the current medical research and literature up to that point. Dr. Edwards recognized the benefits of the Xanthones contained in the peal of the Mangosteen and sought to explore this knowledge clinically by doing lab tests on the patients at Healthy Oakland clinic and those of neighboring Hospitals who attended his lectures and recording his findings over a four year period while there.
His studies, interaction with other physicians and biologists, and first-hand experience with this fruit have led him to become a recognized expert and sought-after lecturer on the power of Mangosteen and its Xanthones all around the globe! His findings on Mangosteen are considered "life altering" by many who swear by his findings and whose blood work and lab changes, even with their own doctors are chronicled in his book where they followed his recommendations.
In 2006, Dr. Edwards produced an Audio -CD outlining the many benefits of Mangosteen, which sold over one million copies!  In 2007, he released two more Audio-CDs outlining more of his clinical/lab findings. One covers the benefits of combining the Mangosteen's Xanthones with minerals, aloe vera and green tea (all powerful antioxidants). This formula represents the most complete liquid nutritional supplement ever seen in the health and wellness arena!
The other CD (released in 2008) was entitled "Time for a Change;" it highlights how we should look at health, with an emphasis on wellness or disease prevention "proactively" as opposed to the traditional "reactive" western model where persons seek help from a doctor only after symptoms have already appeared.
In 2008 Dr. Edwards moved from Oakland to his new residence in San Jose, CA. He is therefore no longer working at the Healthy Oakland Clinic due to this relocation.
In 2009 he released another CD called "Mission Possible" which was later followed by the release of "Mangosteen & Minerals in 35 mins" in 2010.
He still conducts his own personal research on the Mangosteen and has traveled all around the world to validate his lab work internationally on different populations around the world showing that the fruits blessings are universal and empirical, being altogether independent of ones' race or ethnic background! "All countries showed the same changes in chronic disease markers and inflammatory challenges!" he states.
In this vein he decided to take off the next 6 years from the Clinical setting  in order to travel the world while working independently of a large company in the USA that manufactures mangosteen based products as a third party researcher. This has led to the recent and long awaited release/publication of his first book in 2017 entitled – "The Mangosteen Revolution"- vol. 1 which chronicles all of his efforts over the last decade providing a new wealth of knowledge on this subject area which did not exist before clinically and which he has now documented with these extensive tours and the collection of labs from all around the world!
He continues to spread his message on the power of antioxidants and the Mangosteen fruit with these travels that have taken him to countries like Amsterdam, Rotterdam, Bonn-Germany, Israel, Toronto, Vienna and Linz -Austria, Nairobi Kenya, Mombasa, Uganda, Tanzania, Ghana, Bahamas, Curacao, Bonaire, Aruba, along with several others.
Dr. Edwards book "The Mangosteen Revolution", Volume 1 offers an extensive overview of the history of the Mangosteen fruit, its traditional uses, health benefits, and how it works once inside the human body and on the cellular level.  Volume one covers the following health topics: obesity, diabetes, high blood pressure, weight loss, & cholesterol problems.
Following Volume 1 will be Volume 2 which will cover the leukemia's, autoimmune diseases like lupus, rheumatoid arthritis, parkinson's, alzheimer's, autism, ADHD, schizophrenia, and bipolar disorder. So Look out for vol. 2 in the not too distant future.
Dr. Edwards is looking forward to an exciting year as he continues to promote his new book and CD's while traveling extensively and spreading his health and wellness message to all around the globe. Look out for him on his tour circuit coming to a city near you!!!
~ If you can dream it, you can do it.